---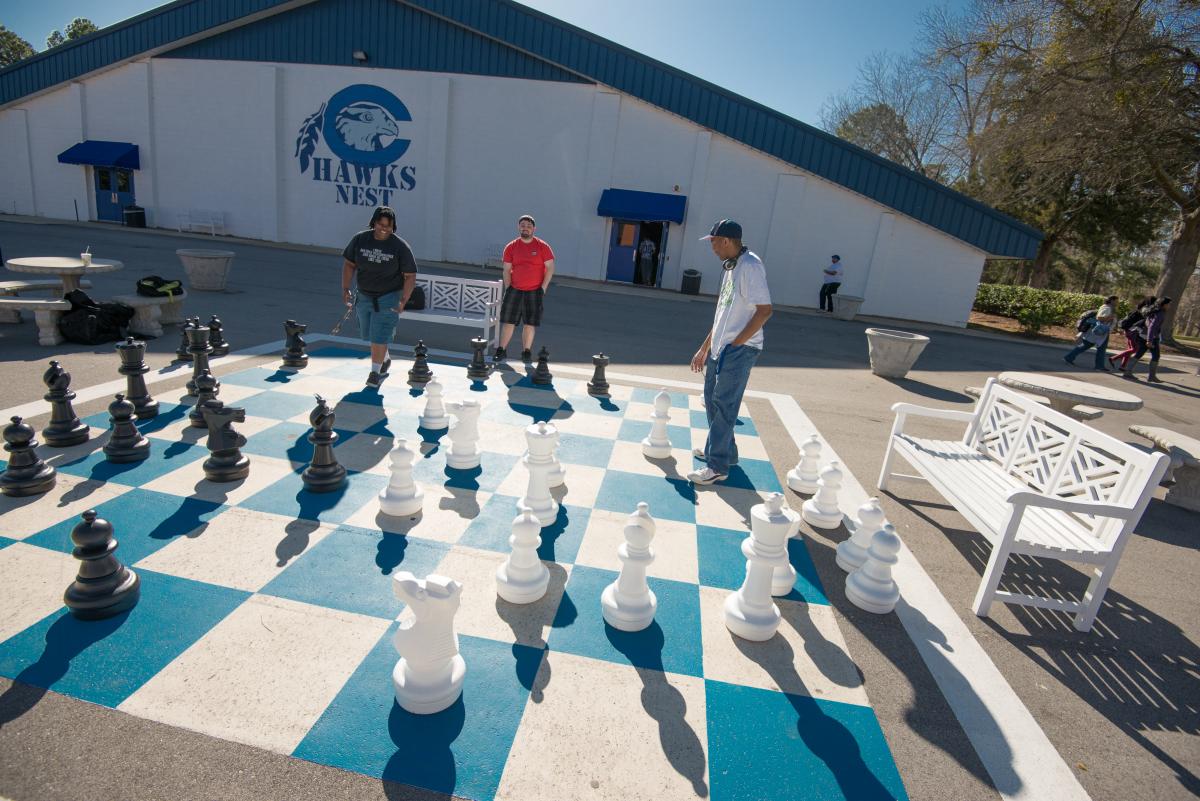 Chowan University is strongly committed to educating the total person: mind, body, and spirit. Student activities and residence life complement the student's classroom experiences and lead to one's personal growth and development. Campus life enables each student to develop social and interpersonal skills, foster leadership skills, cultivate sound ethical and moral principles, deepen spiritual commitments, formulate a philosophy of life, and explore career opportunities.
The University encourages and supports student life through a variety of student services provided by trained professionals in the Department of Student Affairs. The department consists of the following areas: Student Life, Counseling, Housing, Campus Ministry, Wellness Center, Public Safety, Residence Life, and Recreation and Intramurals. In addition to the Department of Student Affairs several other university departments sponsor programs that enhance the quality of student life at Chowan.
Car Registration
All students are permitted to have vehicles on campus. All motor vehicles operated on campus by Chowan students must be registered with the Public Safety Department during the first week of each semester. Vehicles arriving after this time must be registered immediately.
Community Service
To complement a well-rounded education, students are strongly encouraged to get involved in any of the numerous off-campus community service opportunities. Student involvement is welcomed by the local community. The Ministers to the University coordinate many of these efforts, others are coordinated through academic departments or student organizations.
Commuter Student Services
A variety of programs are planned throughout the year to meet the unique needs of those who commute to campus each day and to assist them in becoming a part of the total campus community. The campus food service offers a special meal plan for commuting students. Commuting students are encouraged to become involved in all aspects of campus life.
Counseling
The University provides Counseling Services with the mission to promote student growth and development as they adjust to the demands of college life. Chowan provides individual and group session to support students in everyday challenges that may have a negative impact on their academic and personal success. Counseling is a confidential clinical relationship between the counselor and the student. Students and counselors explore numerous therapeutic methods to aid in the emotional and psychological well-being of students. We offer a wide range of services including:
Crisis intervention
Individual counseling
Group counseling
Substance abuse counseling and education
Psycho-education
Sexual assault advocacy
Title IX
Chowan University complies with laws prohibiting discrimination, including applicable provisions of and amendments to Titles VI and VII of the Civil Rights Act of 1964, the Age Discrimination in Employment Act Executive Order 11246, Title IX of the Education Amendments of 1972, Sections 503 and 504 of the Rehabilitation Act of 1973, the Vietnam Era Veterans Readjustment Assistance Act, the Age Discrimination Act of 1975, and the Americans with Disabilities Act of 1990.
Title IX of the Education Amendment of 1972 states that "No person in the United States shall, on the basis of sex, be excluded from participation in, be denied the benefits of, or be subjected to discrimination under any educational program or activity receiving Federal financial assistance". Sexual violence is a form of sexual harassment prohibited by Title IX.
Food Services
The primary dining location for Chowan University is Thomas Dining Hall with additional food service available in Murf's (Snack Bar) in the Hawks Nest. Chowan University's food services are provided by Pioneer College Caterers, Inc. which employs all members of the food services staff. The Food Service Director and his staff work to provide wholesome and interesting menus. A food committee, comprised of students appointed by the Student Government Association, meets with the Food Service Director on a regular basis. The committee provides suggestions on the enhancement to the food service program and serves as a communication conduit to the student body.
All resident students are required to participate in the Boarding (Meal) Plan. A number of Boarding Plan Options are available for students to select. Each plan offers students choices in meals and dining locations. For more information on Boarding Plan Options, please refer to the "Finances and Financial Aid " section of the Catalog.
Health Service
The Wellness Center is operated as a first aid and initial treatment outpatient facility. The Wellness Center is staffed by a registered nurse. A physician is available to students at an off campus clinic. The cost of any prescriptions or the cost of seeing a physician off campus is the responsibility of the student. There is a charge for any immunization required. Allergy shots may be given at a minimal charge, but arrangements should be made in advance. The University maintains a close relationship with Roanoke-Chowan Hospital located in Ahoskie, NC and emergency medical technicians are available at all hours. Students with serious illness or contagious disease are best served at home or in the hospital. No hospital or quarantine facilities are available on campus.
A MEDICAL EXAMINATION AND HEALTH REPORT IS REQUIRED OF ALL INCOMING STUDENTS. IMMUNIZATION RECORDS ARE REQUIRED BY NORTH CAROLINA STATE LAW AND MUST BE COMPLETED PRIOR TO ENTERING COLLEGE.
The University requires each full-time student to maintain a personal health policy. International students are required to purchase hospitalization insurance before registering for classes.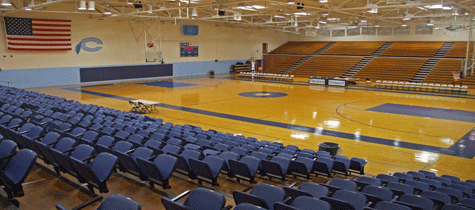 Intercollegiate Athletics
Chowan University is an NCAA Division II, Conference Carolinas, Bluegrass Mountain Conference, and CIAA institution sponsoring 18 varsity programs and a co-ed cheerleading program.
NCAA Division II Philosophy
Members of NCAA (National Collegiate Athletic Association) Division II believe that a well-conducted intercollegiate athletics program, based on sound educational principles and practices, is a proper part of the educational mission of a university or college and that the educational welfare of the participating student-athlete is of primary concern.
Members support the following principles in the belief that these objectives assist in defining the division and the possible differences between it and other divisions of the Association.
A member of NCAA Division II:
Believes in promoting the academic success of its student-athletes, measured in part by an institution's student-athletes graduating at least at the same rate as the institutions student body;
Believes that participation in intercollegiate athletics benefits the educational experience of its student-athletes and the entire campus community;
Believes in offering opportunities for intercollegiate athletics participation consistent with the institution's mission and philosophy;
Believes in preparing student-athletes to be good citizens, leaders and contributors in their communities;
Believes in striving for equitable participation and competitive excellence, encouraging sportsmanship and ethical conduct, enhancing diversity and developing positive societal attitudes in all of its athletics endeavors;
Believes in scheduling the majority of its athletics competition with other members of NCAA Division II, insofar as regional qualification, geographical location and traditional or conference scheduling patterns permit;
Recognizes the need to "balance" the role of the athletics program to serve both the campus (participants, student body, faculty-staff) and the general public (community, area, state);
Believes in offering opportunity for participation in intercollegiate athletics by awarding athletically related financial aid to its student-athletes;
Believes that institutional control is a fundamental principle that supports the educational mission of a NCAA Division II institution and assumes presidential involvement and commitment. The institution should control all funds supporting athletics. The emphasis for an athletics department should be to operate within an institutionally approved budget and compliance with self-enforcement of NCAA regulations is an expectation of membership;
Believes that all members of NCAA Division II should commit themselves to this philosophy and to the regulations and programs of NCAA Division II;
Many NCAA Division II student-athletes pay for school through a combination of scholarship money, grants, student loans and employment earnings.
Athletic Department Philosophy
The program of intercollegiate athletics is and will be administered in accordance with a statement of philosophy, which is consistent with the purpose and goals of the University, the CIAA, the NCAA, Conference Carolinas, and Bluegrass Mountain Conference.
The intercollegiate athletic program at Chowan University endeavors to contribute to the total education of each individual student by providing a disciplined teaching/learning experience outside the classroom. The athletic program strives to provide an environment of wholesome competition to assist in the development of responsible citizens. The athletic experience seeks to foster the personal qualities of high ethical values, a competitive spirit, winning as a part of a team, and excelling individually, cooperation, self-discipline and self-esteem in keeping with the Christian purpose of the institution. Student-athletes may develop their athletic interest and potential through a variety of intercollegiate sports which are financially supported within the University's budget.
The intercollegiate program also endeavors to stimulate the creation of spirit, pride, and unity within the entire community. It seeks to provide wholesome entertainment for the University and for the citizens of the surrounding areas. It strives to create a positive public image contributing both to the recruitment of students and to the support of the University from its many publics.
Sports Offered at Chowan
Men's

 

Women's

Baseball
Golf
Basketball
Soccer
Basketball
Lacrosse
Bowling
Softball
Cross Country
Soccer
Cross Country
Tennis
Football
Tennis
Lacrosse
Volleyball
 
 
 
Golf
Swimming
Conference Affiliation
Chowan University is a member of the CIAA (Central Intercollegiate Athletic Conference). Established in 1912 and rich in history and heritage, the conference is divided into Northern and Southern Divisions in all sports except baseball and men's tennis. Chowan University competes in the Northern Division. Chowan is also an associate member in Conference Carolinas in the sports of men's and women's soccer, men's and women's lacrosse, and women's golf. The women's swimming team participates in the Bluegrass Mountain Conference.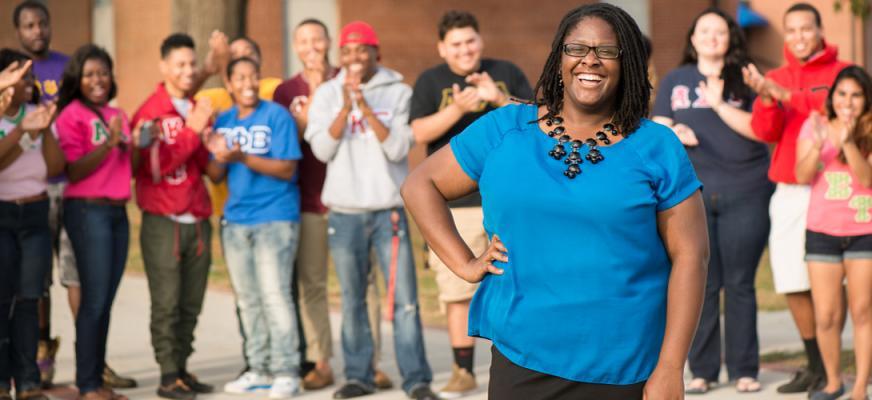 International Student Services
The University Registrar assists international students with information related to visas, passports, and the I-20 form. The Director of International Student Services works with student issues ranging from admissions to orientation to graduation.
Intramurals
The Department of Student Affairs coordinates an extensive program of competitive and recreational intramurals which enable students, faculty, and staff to improve and maintain physical well-being; socialize in a recreational atmosphere; develop skills in a variety of sports; learn and practice good sportsmanship; relieve stress; and simply have fun!
Orientation
An extensive program of orientation for new students and their families is held in the spring and summer before classes begin in August. Students who participate in the program receive academic advisement and register for their first semester of classes prior to returning home for the summer. The orientation program is designed to inform students and to help them quickly feel "at home." Residence Life floor meetings are held to acclimate students to college the first weekend students arrive. Information sessions are held for parents/guardians that allow them to meet and interact with various university officials. An abbreviated program is held for students entering in January.
Organizations and Clubs
There are approximately fifty (50) student organizations and clubs at Chowan University with either an academic, professional, honorary and/or personal interest basis. Student organizations provide opportunities for personal enrichment, professional development, leadership development, community service, and the chance to interact with others of similar interests.
Performance Groups
The university provides opportunities for students interested in music and theatre performance. Choral groups include the CHOWAN CHORUS, CHOWAN SINGERS, and MEN'S CHOIR. Instrumental groups include the CHOWAN WINDS, MEHERRIN CHAMBER ORCHESTRA and the JAZZ COMBO. Other music performing ensembles may be organized for special occasions. THEATRE@CHOWAN presents various dramatic productions throughout the school year.
Spiritual Life
In keeping with its Christian heritage, the University promotes spiritual growth stimulated by faith development. Spiritual growth is as important to one's education as is emotional, physical, and intellectual development. All members of the university community are encouraged to nurture the spiritual dimension of their lives. Students are encouraged to participate in the life and worship of local churches.
Campus Ministry
The Campus Ministry of Chowan University seeks to assist each person as he/she continues on the journey to become all God has created him/her to be.
The Ministers to the University are here to encourage the presences of Christ on our campus and in our community. The Ministers are available to the University community for spiritual growth and guidance, and for assisting persons in exploring ways to share and express their faith in God.
Ministry Opportunities
Christian Student Union (CSU) - This student-led group meets weekly for worship, discipleship and ministry. This is an active ministry that is open to all interested students.
Fellowship of Christian Athletes (FCA) - This group targets our student athletes but is open to all University students. FCA offers weekly meetings that will encourage, inspire and hold accountable the members as they seek to honor God.
Gospel Choir - Instruments of Praise - This is a very active student-led group that meets at least once a week to practice and pray. They minister to local congregations with their inspiring music. Several times a year they will offer a Gospel Explosion on campus. All students are welcome to be a part.
Mission Trips - The Chowan Campus Ministry offers ministry opportunities and mission trips. There are many local congregations that seek Youth workers and the like and current information is available from the Ministers. Mission trips are incredible experiences to offer service to God and our local and global communities. Watch for trips as they are advertised.
Residence Hall Chaplains - The Residence Hall Chaplain program has been implemented to better serve our students, work for greater retention and give opportunity to emerging campus ministry leaders. Resident Hall Chaplains will live in Dunn Hall, Belk Hall 1st floor Mixon Hall and 7th floor of Parker Hall to assist students in their daily adjustments to university life. In addition to providing a needed service of presence to our students, this opportunity offers a unique ministry to students who are looking for ministerial positions outside of parish work.
Student Life
Student activities are an integral part of life outside the classroom. A campus network consisting of the Student Affairs staff, the Student Government Association, Residence Hall Association, Campus Program Board, and resident assistant programming all work closely together to provide a wide variety of exciting activities on a regular basis. Calendars are published each month highlighting upcoming activities. The Hawks Nest Student Center and the Jenkins Center, are major "hubs" on campus for student activities and intramurals.
Residence Life
Residence Life offers students a variety of housing options to choose from. The University's newest residence complex is Whites Crossing. The first two buildings opened in 2012. Three additional buildings opened in 2014. They offer apartment (private bedrooms) and suite (shared bedrooms) style living.
In addition to Whites Crossing, six traditional residence halls are located on campus. All rooms are air-conditioned, wired for cable TV connection, and internet services. Bedrooms are furnished with beds and study areas. Most rooms are designed for double-occupancy.
University policy requires all full-time students to live in campus housing unless they meet one of the following conditions: (1) married; (2) live in the community with their parents or grandparents; (3) over 23 years of age; or (4) a veteran of the United States military. A small percentage of junior and senior students are also allowed to live off campus after successful application.
All residence facilities are supervised by full-time professional staff, live-in Assistant Directors of Residence Life and undergraduate Resident Assistants. Room assignments are made through the Housing and Residence Life Office.
Public Safety
The Office of Public Safety is responsible for protecting life and property by enforcing state and university rules and regulations. The staff consists of state-sworn police officers as well as Public Safety officers who patrol the campus on a 24-hour basis by means of foot, bicycle, and vehicle patrol. An escort service is available to and from any campus building upon request. The office sponsors special seminars on a regular basis dealing with such topics as crime prevention and fire safety. Public Safety works closely with local and state law enforcement agencies.
While the University takes all possible precautions to help residents protect their possessions, the University does not assume responsibility for items that are lost, stolen, or damaged.
Students are advised to determine if their possessions are covered by their parents' home owner insurance or, if needed, invest in adequate personal property insurance coverage.
Student Conduct and Expectations
The University is committed to Christian values that create an academic community that is orderly, caring and just. At Chowan every person is considered to be a person of worth. Cultural backgrounds, attitudes, and opinions different from our own are welcomed and appreciated; however, any form of harassment, hazing, lewd, or indecent behavior will not be tolerated. The University takes a strong stance against drug abuse, possession of firearms, and pyrotechnics. Drinking or possession of intoxicating beverages is not permitted on campus. The Honor Code, Campus Code, and rules and regulations are specifically stated in the current edition of the Student Handbook. Students are responsible for their own actions and behavior and are held accountable as such. The University reserves the right to contact parents when the conduct of a student places him/herself or others at risk.
Student Government Association
All students are automatically members of the Student Government Association (SGA). The SGA provides students the opportunity to participate in the operation of the university, to gain experience in democratic procedures, and to become actively involved in the planning and implementation of university-sponsored activities.
Traditions
There are a number of traditions celebrated at Chowan University, some are once a year activities and others happen throughout the year. Each new academic year begins with a campus-wide worship service to dedicate the year to the Christian values of the university, there is also a university-wide picnic where students, faculty and staff share a meal and fellowship. During the Fall Semester the greatest tradition is Homecoming that includes a talent show, casino night, a semi-formal dance where the homecoming court is announced, a pep rally and bonfire, a parade and of course the annual Homecoming football game.
As the university moves into the Spring Semester attention turns increasingly towards graduation. Still, there are a number of traditional activities that take place prior to commencement. These include the Snow Ball, a semi-formal dance, and spring fling, a week of festivities marking the end of winter. With Forty-eight days remaining until graduation, Senior 48 is a party for the senior class. The night prior to commencement the Senior Banquet honors graduating seniors and their families.
The newest tradition at Chowan is the Senior Rock. Located just behind Penny Hall, the Senior Rock was requested by the Class of 2003. Officially, members of the senior class have the right to decorate it. However it appears that this emerging tradition will pit the juniors, sophomores and freshmen against each other to stake an early claim on the Rock.